As I'm sure all of my friends know, I love my credit cards. I know they are not for everyone, but I've had one since I was 16, and always pay them off at the end of the month. My parents taught me to treat it like a debit card, and never buy anything I couldn't pay for at the end of the month.
Right now Isaac and I have 2 active credit cards, a
Discover
and a
Chase MasterCard
. Both of them give rewards which is why we chose them. I was talking with a friend on Monday and mentioned that I have
no idea
what the APR is on either card. I decided to look it up for this post.
Discover - 12.99% on purchases, 20.99% on cash advances
Chase - 14.99% on purchases, 19.24% on cash advances
Is that high or average?
For those who don't have a credit card, or do but use it sparingly because they are afraid of overspending or going into debt, here are my tips on how to choose and use a Rewards Credit Card.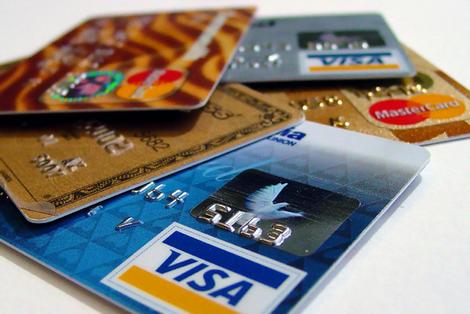 Step 1: Find the right card
Finding a Rewards card that matches your lifestyle. For us, we don't specifically travel, so we didn't need a Miles card. I also have very good credit, so I could qualify for certain cards. Also we never pay an annual fee. We went with cards that give us 5% on different categories each quarter, and 1% on every other purchase, because our purchases vary. To help find the best card for you, here are some links. You can look at APR, but really your goal should be to pay it off at the end of each month use it just like you would a debit card.
Step 2: Use your card...wisely
If you have had problems using credit cards in the past or this your first card, start by making only purchases that qualify for the rewards. If like our cards this month you get 5% for home improvement purchases, pull your card out only for those purchases. Use it only as a replacement for your debit card, on things you need to buy anyway.
Step 3: Track your spending
Do you really know what you are spending each month? Where are you spending too much? I've been using
Mint.com
and it has been very helpful. It puts all our accounts onto one page, so I know what we've been spending in all our accounts. I know we are overspending with groceries and restaurants, and that I need to
not
check around Christmas and Valentine's Day, or I'll know where Isaac bought my presents. (
oops...
)
Step 4: Pay off your statement every time
You should always pay off your statement.
You wouldn't overdraft your bank account, why would you overspend on your credit account?
Most cards give you about a month to pay your balance off, and you can do it several times in that month if need be until you pay the balance. Interest racks up fast, so don't just pay the minimum. Schedule your payments with the credit card company and
add it to your calendar
so you know when it will pull from your bank account and will be sure to have enough money in your bank account. Sometimes I have to move money around, but I add an alert to my calendar 2 days before so I remember to check.
If you see you can't make a full payment, pay as much as you can and stop using your credit card. Start using your debit card or cash again and get the balance paid off as fast as you can. You can even set up an automatic draft with the credit card company to pay until you again have a zero balance.
Step 5: Plan before you spend
Just recently Isaac and I bought a new tv. We had been using our credit cards wisely and had racked up quite a bit of Cash Back to use towards the purchase. Isaac's tv was going out so we decided that we would buy a new one. We first researched and found the TV we liked, then we researched our cards to see if we could earn cash back from it. After looking, we found out we could earn
extra
cash back if we purchased it online through ShopDiscover and BestBuy with our Discover card and not have to pay for shipping by having them ship it to the store, which meant waiting a couple of days more than shipping it to our home or buying it at the store. We earned
$29
just by looking into that before our purchase and being patient (well I was patient..) and put that toward our balance at the end of the month. We ended up using about
$300
in cash back towards that purchase, great savings for something we needed (ok wanted
and had the money saved up
) to purchase anyway.
Step 6: Maximize your rewards
Most card companies give you different ways to use your cash back. You can use it towards your statement balance, send it to your checking account, or even get gift cards from retailers. I've even used them to get Discover Gift Cards as gifts for people. Retailer Gift cards usually are the best because you can get them for less cash back than the card value. For example, I can get a Lowes card for $50 and only use $45 cash back. So you get $5 extra on top of the cash back you earned!
So to recap:
1. Find the right card
2. Use your card...wisely
3. Track your spending
4. Pay off your statement every time
5. Plan before you spend
6. Maximize your rewards
Hope that helps and gives people the courage to try rewards credit cards, and to get the most out of them! Hooray!